Organise a traditional games marathon for your team.
We are all tired of the games we play on our phones !
Conferences | Fun Activity | Wellness | Sales strategies | Team-building sessions | Learning sessions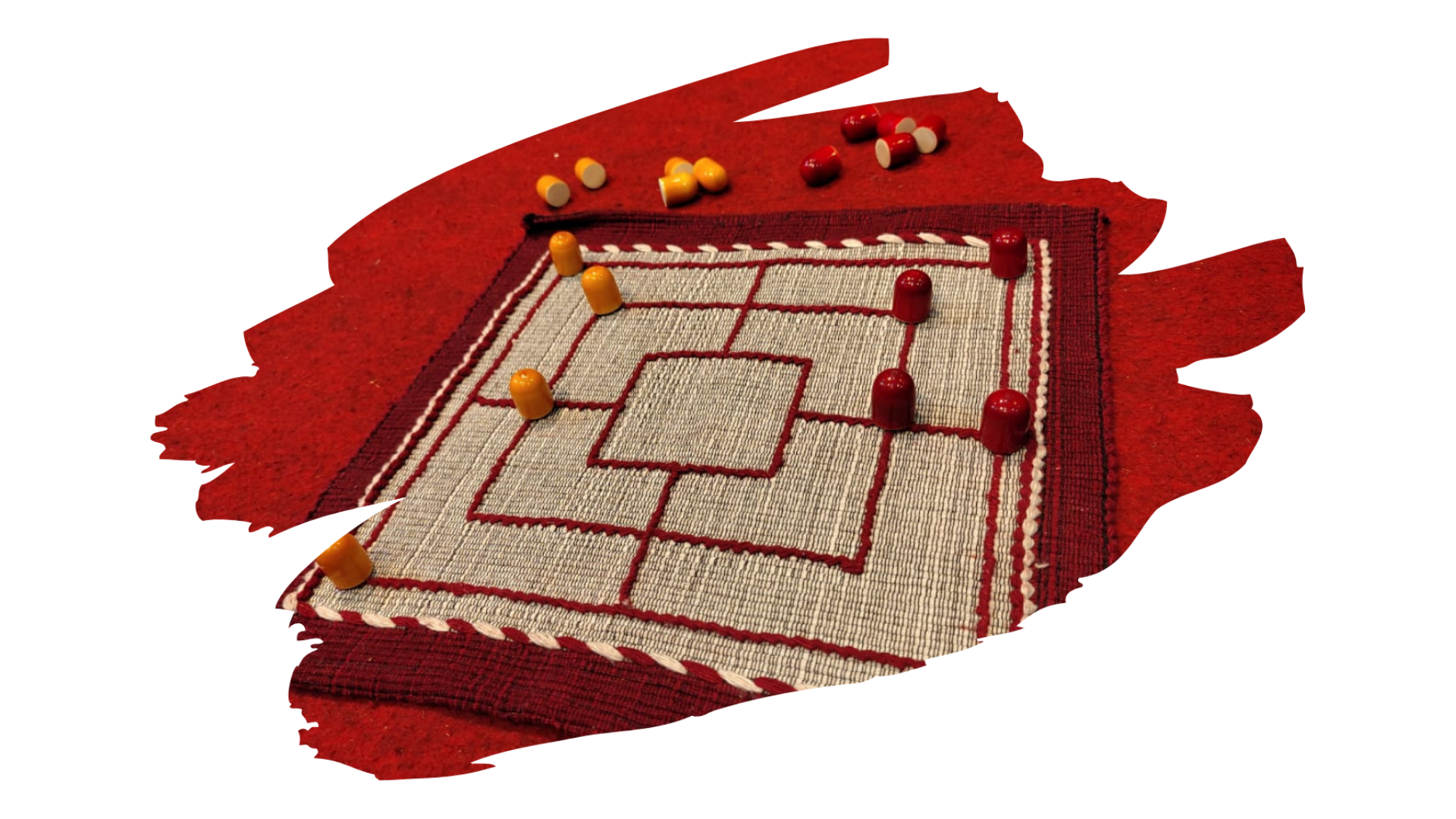 Navakankari or Nine Men's Morris is an alignment games played by 2 players.
Each player gets nine counters.
Navakankari is also called as Saalu Mane Ata in Kannada Daadi in Telugu and Nav Kakri in Gujarati.
The basic aim is to make 'Mills'- vertical or horizontal lines of three counters belonging to one player.
Benefits: Strategy | Planning | Observation
Pretwa is a war game played by 2 players.
Each player gets an army of 9 soldiers or sepoys.
​The game is related to draughts and Alquerque as pieces are captured by leaping over them.
​Benefits: Strategy | Planning Skills | Team Work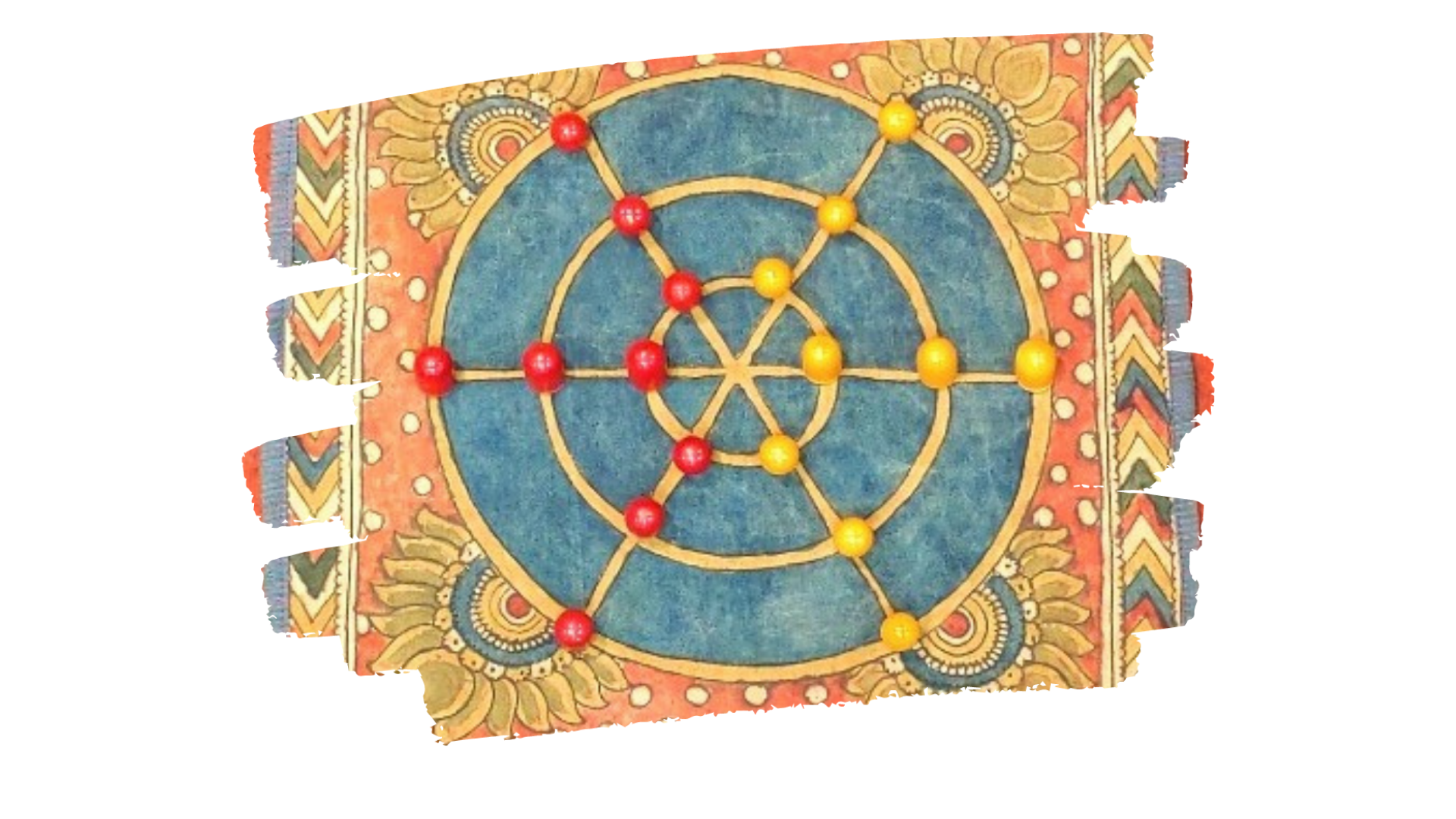 Panchi is single track race game played by 2 players.
This game is also called as Pancha Keliya.
This is a game played with a special board and 7 shells with one flat side.
Two persons can play this with 5 counters each.
5 cowrie shells give the count to move counters.
​Benefits: Strategy | Planning Skills
Four handed Chaduranga is the predecessor of the modern Chess.
This is played by four players unlike two players in the conventional Chess and also involves the component of chance in the form of a single stick dice or daala.
Benefits: Strategy | Planning | Execution | Mindfulness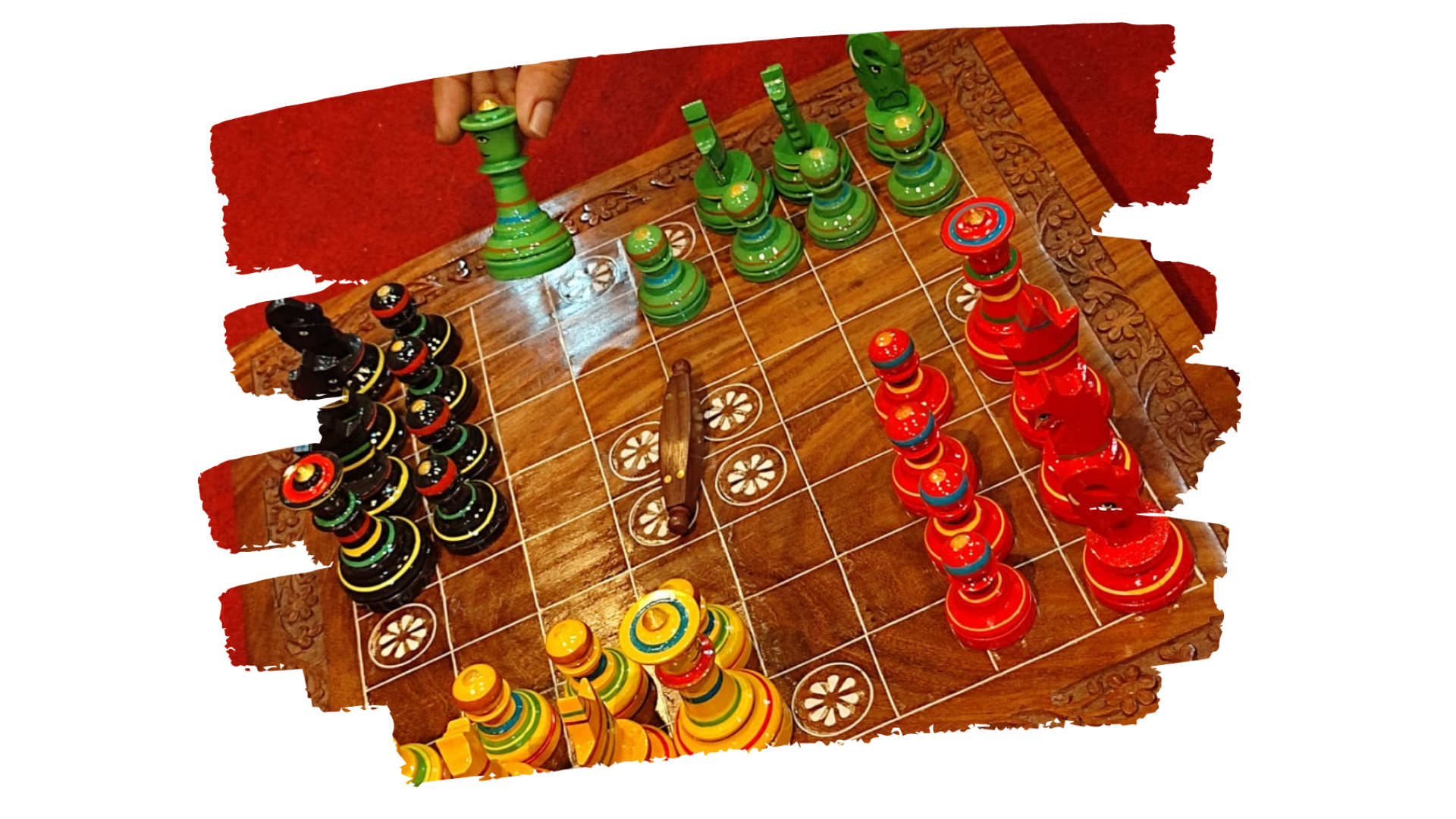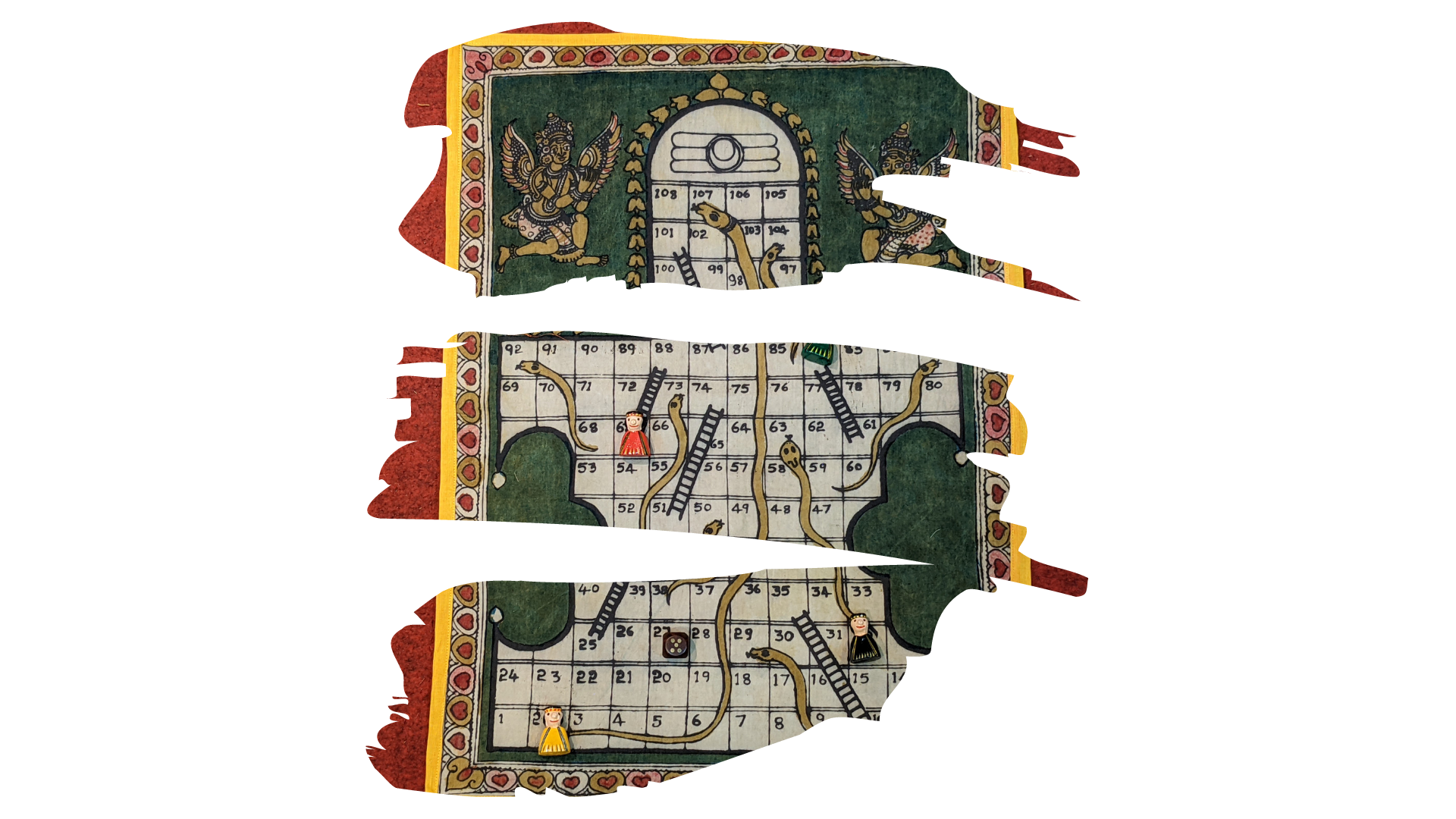 Paramapada is a race game having sequential numbers from 1 to 100.
Paramapada is also called as Gyan Chaupar, Moksha Pata, Kailasa Pata Vaikuntapali and Snake & Ladder.
The aim of the game is to reach the final square.
This 'logic' concept was used to teach either spirituality or morality in the players.
Benefits: Accuracy | Planning Skills | Observation
Chowka Bara is a race game on a grid of either 5×5 or 7×7 or 9×9 squares. It is a 2 or 4 player board .
This is also called as Chakaara, Changa Bu, Challas, Challas Aath, Kavidi Kali, Kanna Dudi, Baara Atte and Khaddi Khadda.
This game is an example of a "fully observable" system that has an element of chance introduced by the roll of special dice and an element of strategy.
Benefits: Strategy | Planning Skills | Foresight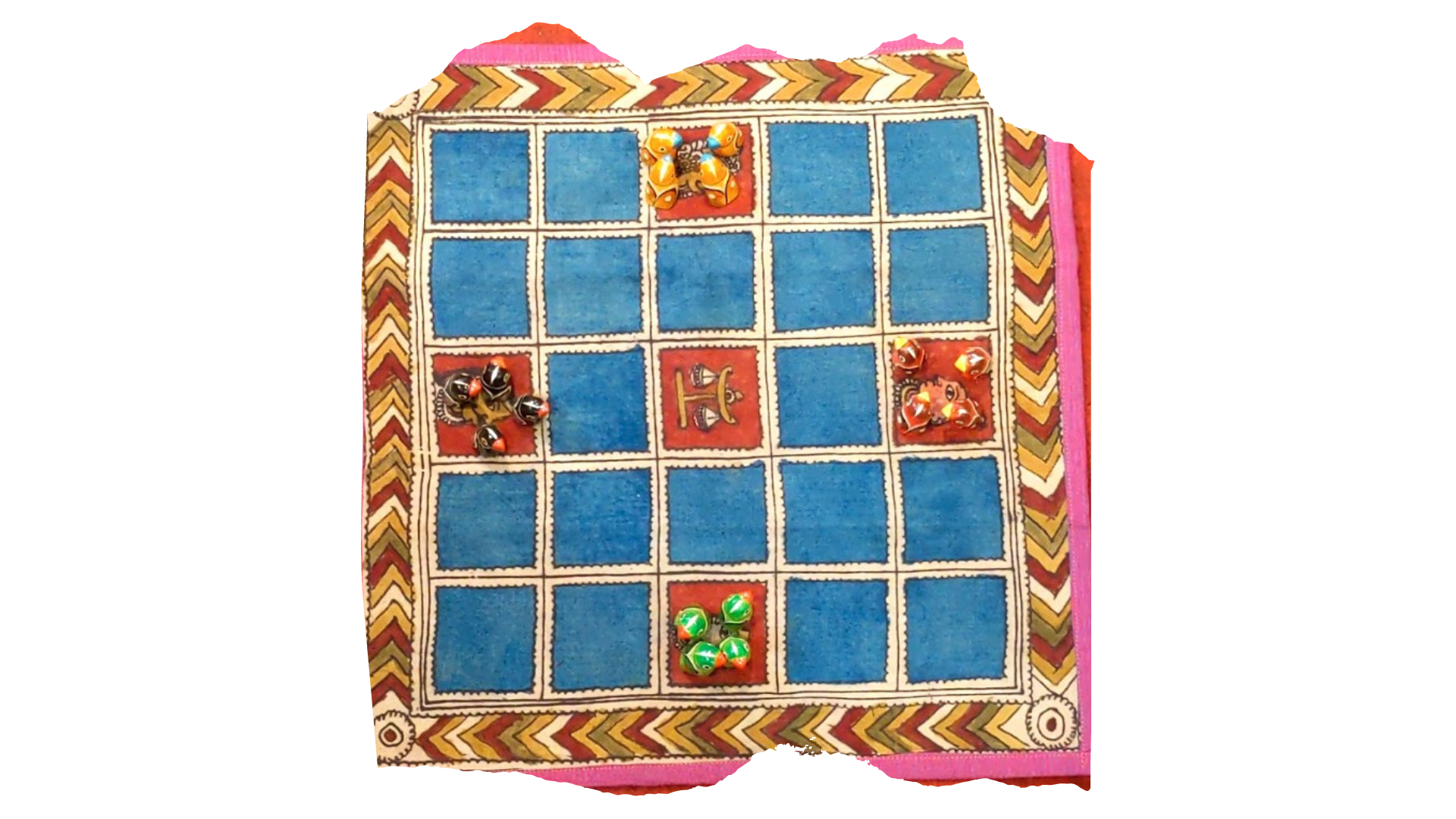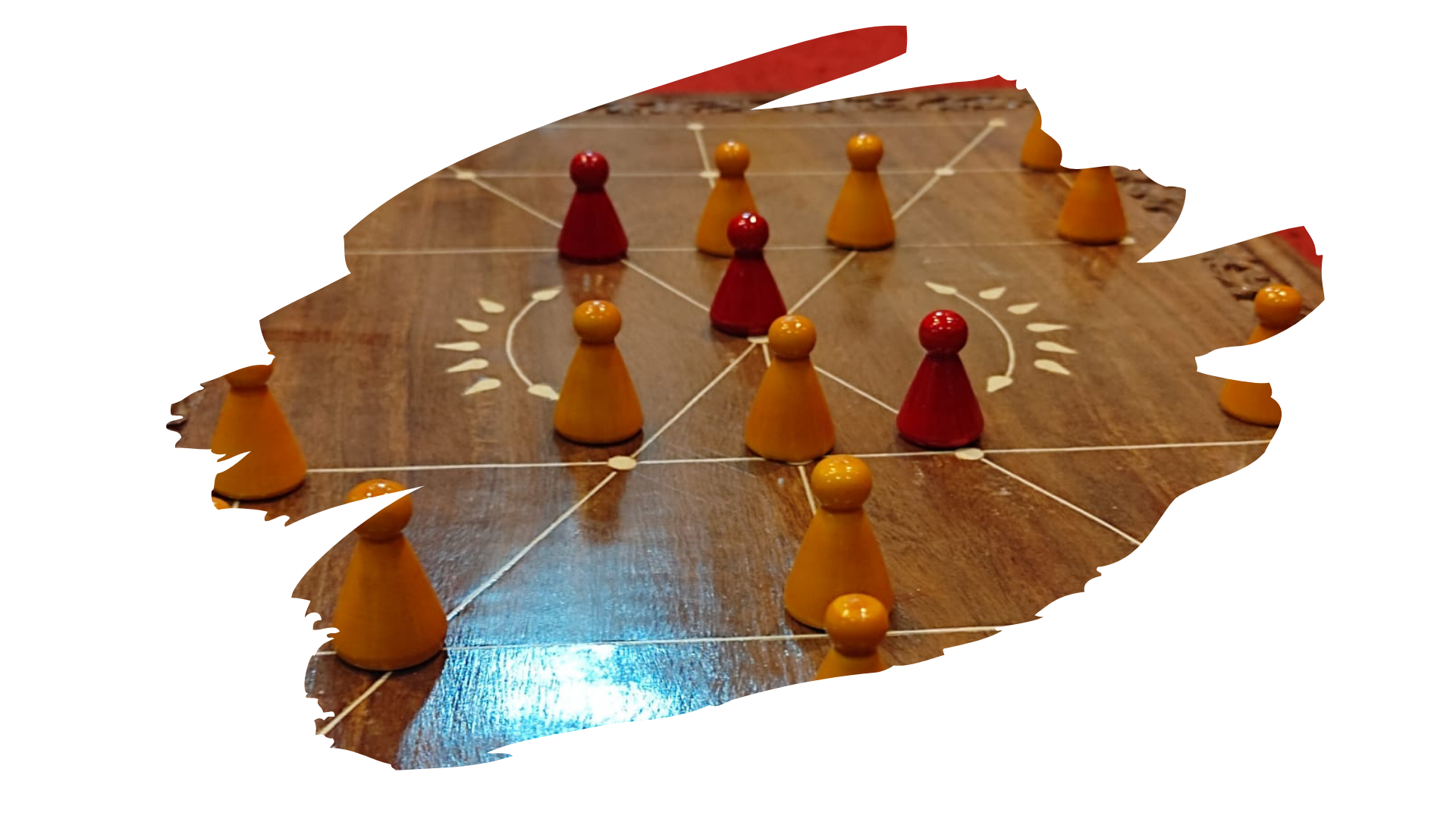 Nau Keti Kata is an Indian war games.
It is a multiplayer abstract strategic game. One player gets a group of nine (nau) boys (keta) and another gets a group of nine girls (keti).
The name is in Bengali since the game is quite popular in that region.
The paraphernalia of the game consists of 1 board game and 2 sets of 9 pawns (total 18).
Benefits: Strategy | Planning | Mindfulness
Adu Huli is a hunt game involving two players is quite popular across the country in variety of shapes and sizes.
This game is also called as Huli Kallu, Huli Kattu and Huli Kuri in Kannada. In Telugu it is called as Puli Meka and in Tamil it is popularly known as Pathinainthampuli.
It is a strategic, two-player board game which involves controlling the counters assigned.
There are three tigers and fifteen goats, the tigers hunt the goats while the goats attempt to block the tigers movements.
Benefits: Strategy | Planning Skills | Observation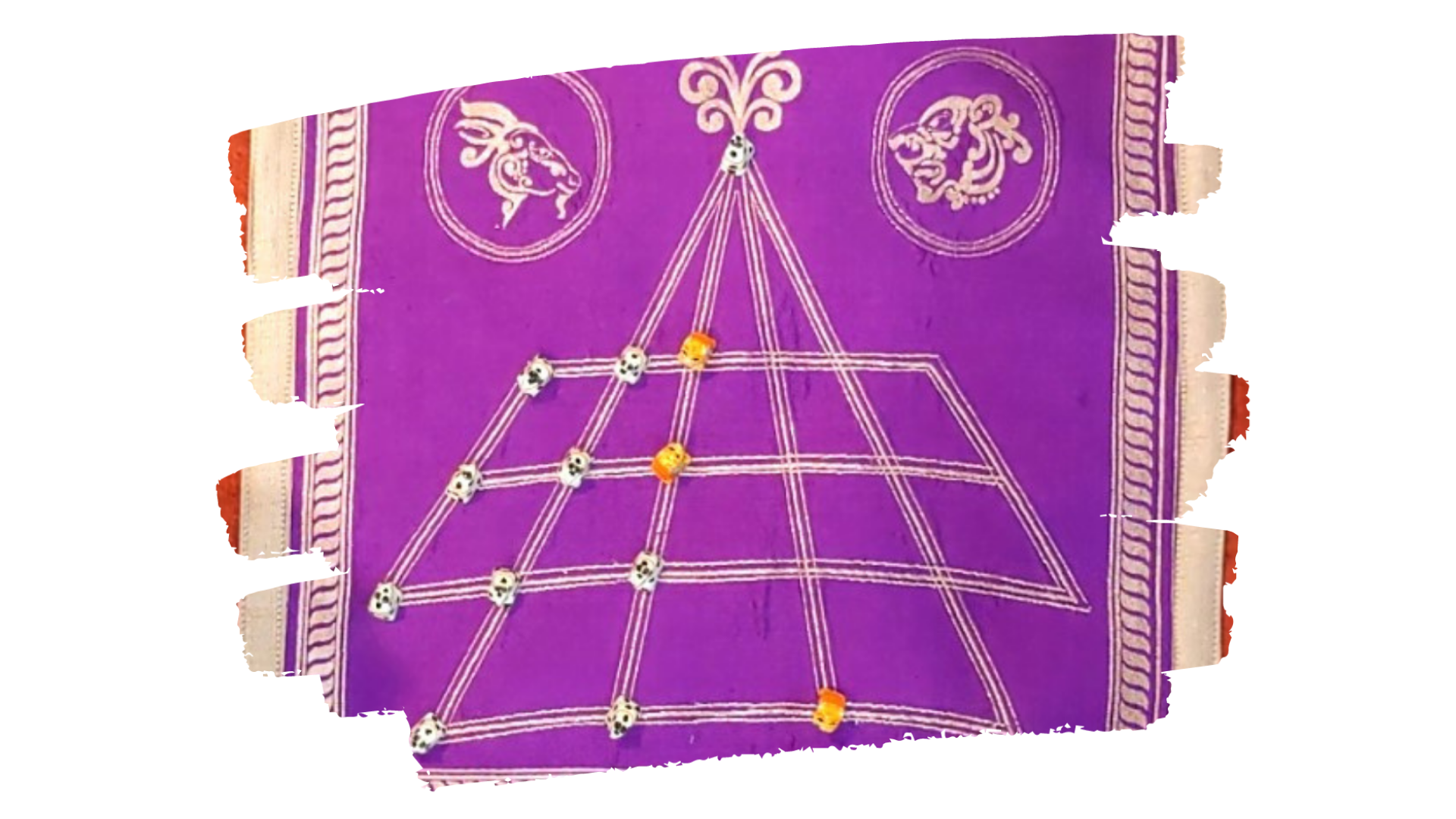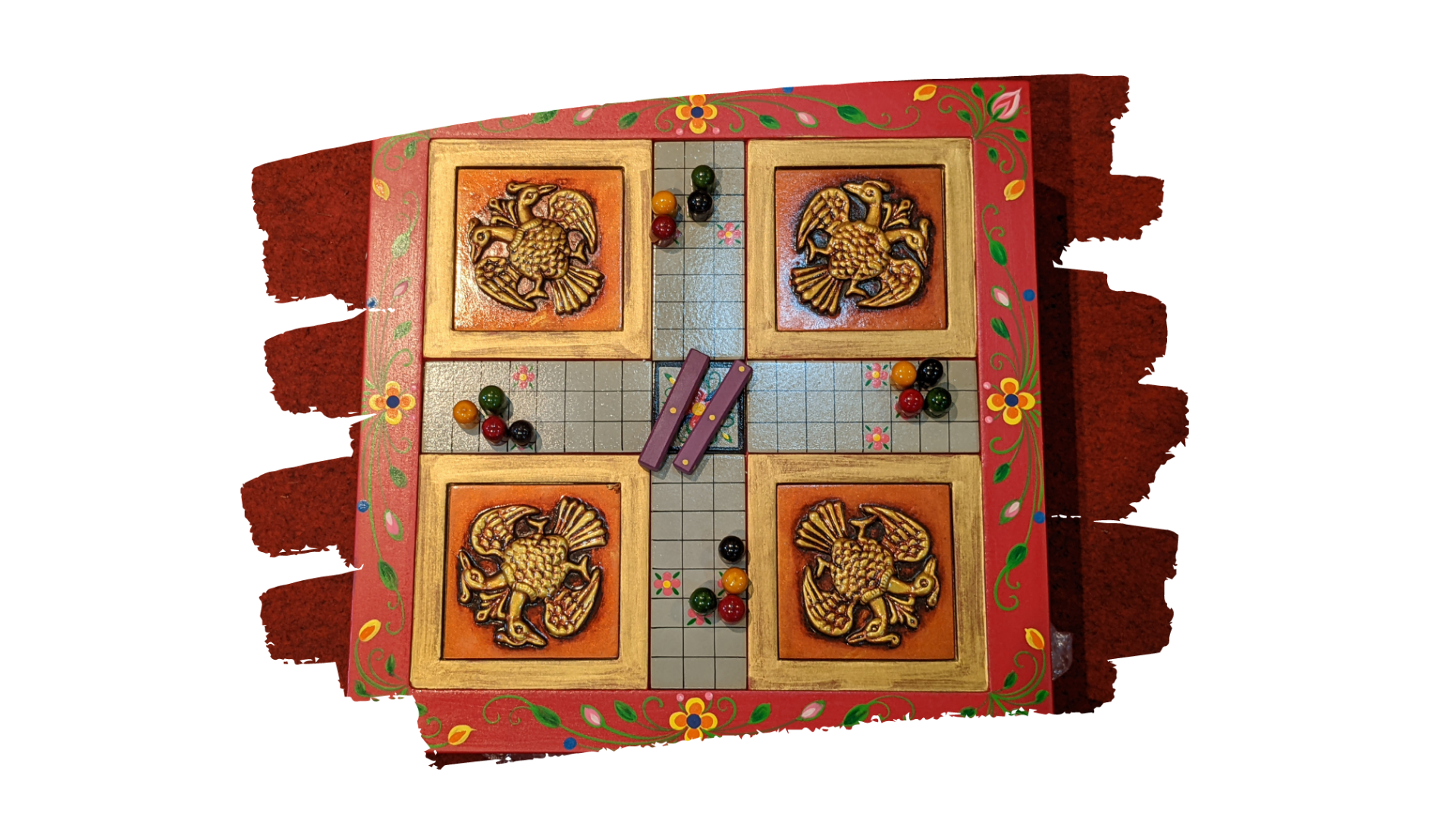 Pachisi is the race game which is popularly known as Chaupad, Chausar, Chopat, Dayakattam, Pagdee and Ludo.
It is described in the ancient text Mahabharata under the name of "Pasha"
It is played on a board shaped like a symmetrical cross with cowrie shells and pawns.
Benefits: Teamwork | Strategy | Planning
Aliguli Mane (Mancala) is a fun game of counting which traces its roots to Africa.
In India it is called as Chenne Mane, Haralu Mane, Gotu Guni (Kannada), Pallanguli (Tamil).
The game board is generally hand carved in wood and rarely made of metal. The board has two parts, Each part has seven pits in a row.
These fourteen pits are used in playing and the extra pits are to store counters.
Its concept is sowing and reaping – an integral part of rural life all over India.
Benefits: Analysis | Strategy | Mindfulness